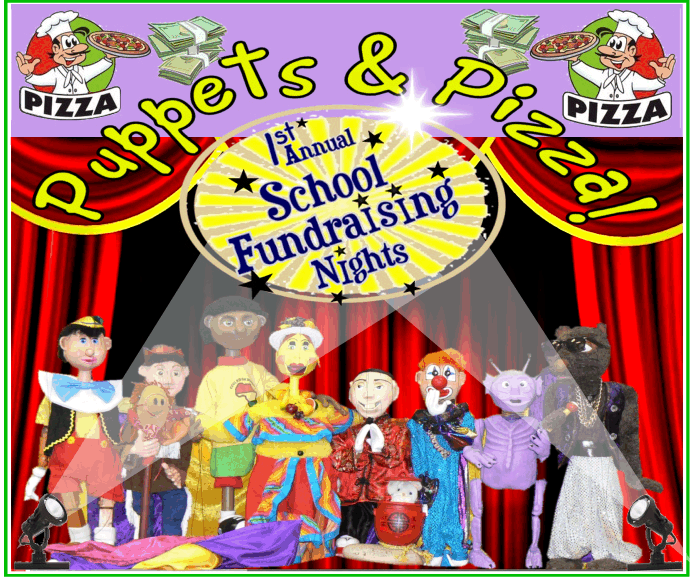 Wearing your parents and kids out with too many sales throughout the year?
Are you wanting to foster

your school community with a fun family event?
Are you searching for an escape from cookie dough, popcorn, and chocolate sales?
Are you l

ooking for a totally unique, fun and easy way to raise funds?
We Have What You Are Looking For!
Bring family fun to your parents that is affordable. Have a pizza and puppet night at their school!
Everybody will have good time while supporting and helping out their school and raise vital funds! The entire event will last about an hour and a half. You keep all proceeds!
How It Works

Pay us a nominal flat fee for a half hour or forty-five minute marionette variety show of your choice. We provide posters to announce the event, and DVD's to raffle off after the show!
You provide the pizza or popcorn (for puppets and popcorn night). Some pizza places offer special discounts for school fundraisers in exchange for printing their name on the poster! Let us know the name of your favorite pizza place, so that we can include them in the show poster artwork.
Your fundraiser does not have to be at night. It really can be any time that works for you. Even weekend carnivals!
An alternative to pizza, is popcorn! "Puppets and Popcorn!" You can not go wrong with popcorn and a show!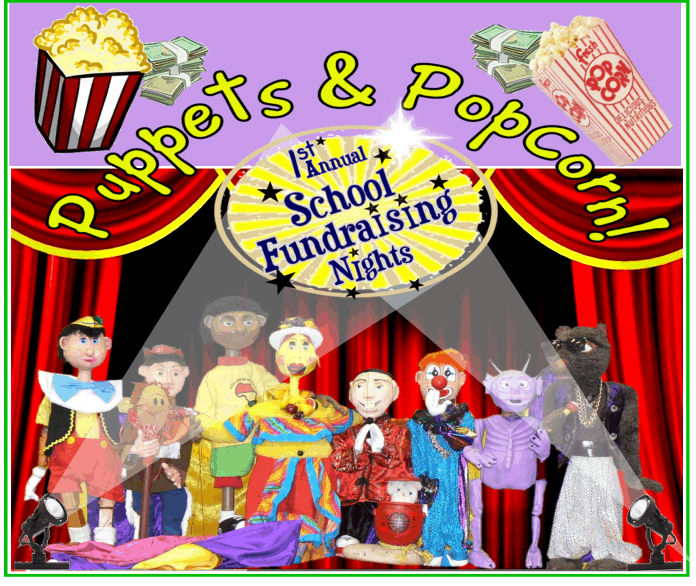 Call 800-687-5193
or E-mail Us! with your questions!