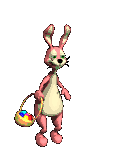 Springtime Puppet Parade Show Poster
Here comes Peter Cottontail hopping down the bunny trail! He's bringing everyone lots of spring time joy! Franklin Haynes Marionettes presents a delightful spring puppet surprise this spring -- SPRINGTIME PARADE (Click On Picture To Enlarge)! This very colorful show features a lot of bouncing bunnies that will enchant the young and young at heart. There are Bunnies that juggle, bunnies that hop, bunnies on trapezes that never stop! Miss Frances the Flamingo makes a special appearance, but not to overshadow Peter, the special guest of the day! This colorful puppet parade also features other special springtime friends. There are beautifully decorated sequin Easter Eggs who march around half-hatched! Wait to you see these little critters with their marching legs poking out of the shell.
SPRINGTIME PUPPET PARADE will make your egg hunt or other spring celebration one that families will always remember.
Springtime Puppet Parade Video
Pause Music To Watch Video
Springtime Puppet Parade Photo Gallery